New Independent Research Site Launches with Comprehensive Agency Rankings
Emerging Media is ranked as one of the Top 10 PR Agencies for Mobile and Wireless applications! That was the surprise we received on Monday via an email notification from a new independent research site called
Top PR Agencies
. The newly newly launched TopPRAgencies.com (
press release)
  has done quite a bit of research to develop their rankings and have populated a very comprehensive database of Public Relations firms. In addition to the rankings, the site promises to provide a comprehensive directory of PR agencies, research tools, blogs, press releases and a knowledge center.
Emerging Media has been working with Mobile and Wireless space for several years now and is very proud of what we have achieved for our clients. Our clients have spanned mobile applications, mobile radio, advertising and even software infrastructure for the industry. Here are just a few:
StearClear, an app-based designated driver service that gets you and your car home safely
Echolocation, a new hyper-local, micro-blogging app that connects users to highly relevant content based upon their location
TargetSpot: the largest Internet and mobile radio advertising network
WebNMS: A leading provider of wireless and mobile infrastructure software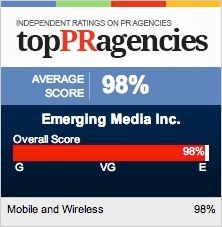 "As technologies have changed, we've found creative ways to adapt our PR strategies with the times – from content creation to events to social media," said Susan Lindner, President of Emerging Media. "We're inspired by the businesses we work with, and how these technologies move all of us forward"
The Top PR Agencies site shows great promise. They have already put a ton of effort and work into creating a great database that will be a helpful resource to agencies and corporate PR departments alike. We will certainly keep an eye on the site and see if we can improve our rankings over time!